Pas grand chose à se mettre sous l'oreille ce we à Liège.
On va donc vous inviter en déplacement vers des sons DNB et ACID.
Deux soirées pour vous à ne surtout pas manquer.
---
Star Warz presents '15 years of CRITICAL MUSIC' Belgium
Friday, December 22nd @ Vooruit, Sint-Pietersnieuwstraat 23, Ghent
Line-up:
Mefjus
Emperor
Kasra
Klax
Monty
Pamb & Harsh
One87
Cedex & Underground
Solace
Miles
Hosted by Mc Maksim, MC Mush & MC 3XB
Practical:
Doors:  from 22h.  till 6h.
Entrance:   15,00 Euro pre-sale  ;  19,00  Euro @ Door
Presale:   All FNAC & Brooklyn Shops
Vooruit
Online:  www.starwarz.be/tickets   &  www.187-dnb.com
More info:   www.187-dnb.com
www.starwarz.be
www.criticalmusic.com
Concept:
Star Warz has been visited by all leading and uprising artists & labels in the scene and it is one of the partners of Tomorrowland since day one. Some of the many extra ordinary editions include: all Metalheadz nights, 20 Years Of Ram records, 15 Years of Virus Recordings & Soul:ution, 10 Years of Exit Records, 10 Years of Shogun Audio, 15 Years of Dispatch Recordings and the list goes on.  Each of them memorable nights that will go down in the history books of Drum 'n' Bass. And now, as also they are celebrating their 15th anniversary, Critical Music is back for more of that special Drum 'n' Bass vibe Star Warz represents.They would not have chosen anyone else for their special celebration in Belgium!
Critical Music reached its 100th release in its 15th year, celebrating with the landmark album 'Fifteen Years Of Underground Sonics' earlier this year. Spanning the broad spectrum of Drum 'n' Bass that the Critical sound represents, the exceptional '15' album is as bold as it is beautiful and looks to serve the test of time in the D&B history books.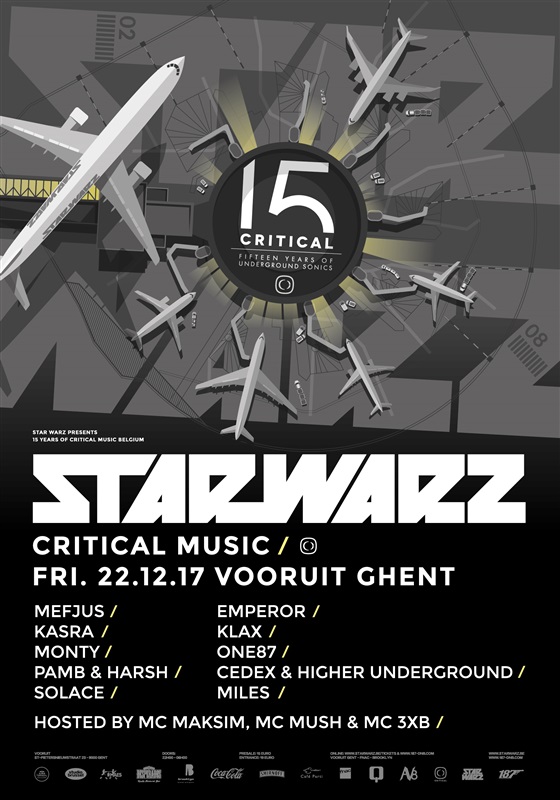 ---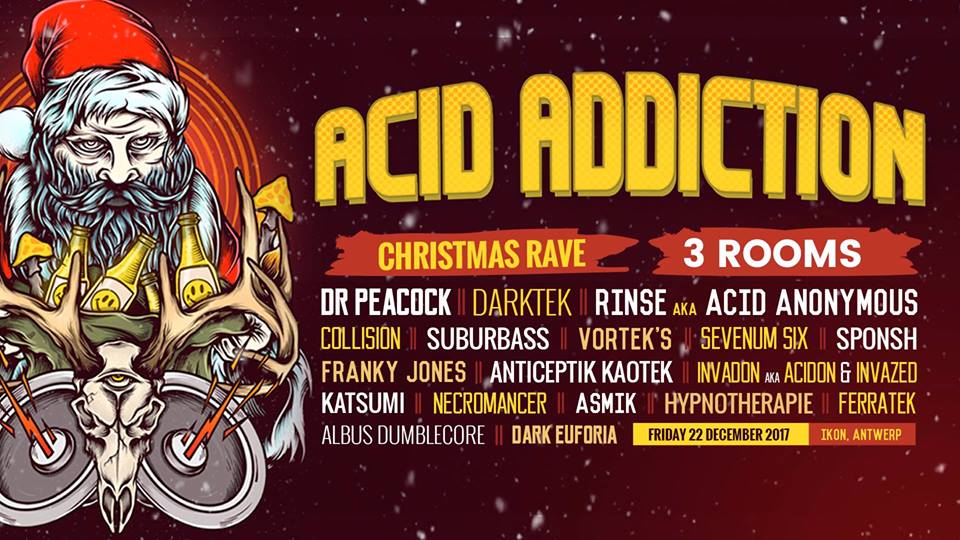 Acid ✘ Acidcore ✘ Acidtekno ✘ Mental
▂▂▂▂▂▂▂▂▂▂▂▂▂▂▂▂▂
Powered by Funktion-One Soundsystem.
(●̮̃•) RINSE (Netherlands) [LIVE]
(●̮̃•) COLLISION (Netherlands) [LIVE]
(●̮̃•) VORTEK'S (France) [LIVE]
(●̮̃•) FRANKY JONES (be - Resident)
(●̮̃•) SEVENUM SIX (be) [LIVE]
(●̮̃•) SPONSH (be) [LIVE]
(●̮̃•) INVADON (be) [LIVE]
▇ ▇ ▇ ROOM 3: PSY ▇ ▇ ▇
▂▂▂▂▂▂▂▂▂▂▂▂▂▂▂
Psytrance ✘ Goa ✘ Hi-tech ✘ Darkpsy
▂▂▂▂▂▂▂▂▂▂▂▂▂▂▂
(●̮̃•) KATSUMI (Netherlands) [LIVE]
(●̮̃•) ASMIK (be)
(●̮̃•) HYPNOTHERAPIE (be) [LIVE]
(●̮̃•) FERRATEK (be) [LIVE]
(●̮̃•) DARK EUFORIA (be)
▂▂▂ Tickets ▂▂▂
☢ Early Birds: €12,00
☢ Regular Presale: €16,00
☢ Doorsale: to be announced.